Fidel V. Ramos, President of the Philippines


Fidel V. Ramos, the previous president of the Philippines, was the Armed Forces Vice-Chief of Staff during the dictatorial reign of Ferdinand Marcos. Following the snap election of 1986 - called for by Marcos in an attempt to stem opposition that had been building since the assassination of Benigno "Ninoy" Aquino - Ramos defected to the opposition in a move that lead to Marcos' downfall and the installation of Cory Aquino as president.

Following the six year term of Aquino - a term that survived numerous coup attempts - Ramos was elected president in 1992. He was succeeded in 1998 by Joseph Estrada.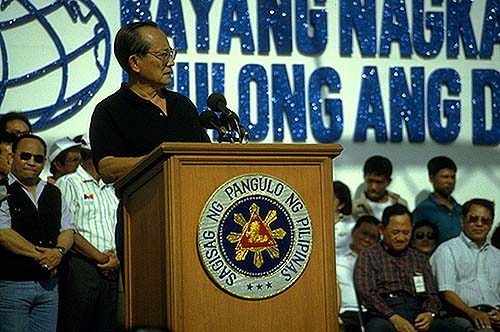 Here, Ramos addresses the crowd at a rally commemorating the seventh anniversary of the "People Power" overthrow of Marcos.