The success of this endeavor relies on the generous financial support of individuals and organizations. Every bit helps. Donations are tax deductible.
Please make checks payable to: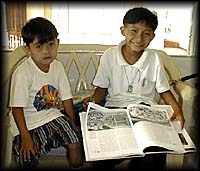 CECILLE GONZALES GOMEZ LIBRARY, INC.



and mail to:
GREGG BUTENSKY
1120 VALLEJO ST
SAN FRANCISCO, CA 94109 USA
The Foundation operates with little or no overhead cost. The Director and members of the Board of Directors are uncompensated. Project funds are allocated exclusively for books and other library materials, library staff salaries and direct infrastructure costs.


Good news. We can now accept
contributions via credit card.