In Manila I was able to meet with four publishers and a charitable foundation. These meetings resulted in the acquisition of 172 books (mostly discounted purchases but also a few donations). Two of these entities are new contacts that I think we can count on for ongoing support - in particular, the charitable organization.
I met the in-country director of the Asia Foundation's Books for Asia program. After hearing about the project, he immediately invited me to select 50 books from their stock room - all donated. Better yet, now that we're in their database, we can request books twice a year - up to 100 titles.
Since my last status report a few prominent local individuals learned about the library and donated books. These donations totaled 465 books plus a 30 volume set of encyclopedias. A former peace corps volunteer (who I met there during my previous visit) donated 68 books.
In addition I brought with me a handful of donated books from back home - mostly from T'Boli Publishing (a Filipino publishing house based in San Francisco) - and purchased a few more titles in Kalibo (the provincial capital). Two of the latter deserve special mention. Both of these were published within the past few months by a small local publishing house.
The first is a big, beautiful hardcover book - a five language dictionary. English, with definitions; translations in Tagalog, Aklanon, Hiligaynon, Kinaraya-a (the four main languages in addition to English spoken on the island of Panay).
The second is the first book I've ever seen published in Aklanon - a translation of the new testament.
People
I'm happy to report that the library staff remains unchanged despite the fact that one of the Sheilas has had two children since the last time I was there. The amicable Pedro Bustamante oversees the operation and the two Sheilas split librarian duties.
I had the pleasure of meeting two other individuals during my recent visit who I consider kindred souls. They're both teachers across the street at the integrated school. And together they're responsible for a wonderful new library at the school. Jocelyn is the main librarian and Heather, an American Peace Corps volunteer, has done much to assist her. Initial meetings with both of them brought some interesting possibilities for collaboration to light.
Technology
Okay, lots of good news - there must also be some bad. The computer, once again, is on the fritz. I managed to fix the voltage regulator - which was also dead - but that's as far as I got. We'll have a technician take care of it but this meant that I couldn't spend any time with their database of books (which I was hoping to do).
I brought a donated digital camera with me this time. But because of the problems with the computer, I never got around to giving the folks there a lesson on how it works.
The Building
The Municipal Hall - where the library is housed - has been renovated. It's beautiful. Check out these before and after shots.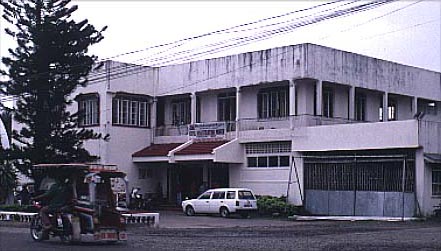 Numancia Municipal Hall - 1998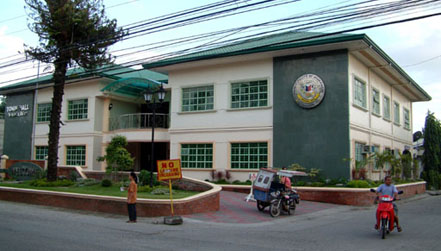 Numancia Municipal Hall - 2005
Gregg Butensky
Director