Danongan Sibay Kalanduyan
NATIONAL HERITAGE FELLOW
NATIONAL ENDOWMENT OF THE ARTS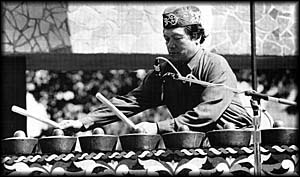 Danongan Kalanduyan is a master of all aspects of the Maguindanao tribal style of kulintang music and has been a central artistic figure in virtually all major Filipino-American communities for nearly two decades. Born in the fishing village of Datu Piang in the Cotabato area of Mindanao, he was raised in a strongly traditional musical environment. "If you were born in my village you'd hear no Western music, just traditional music," he says. "The music was everywhere and for everyone, not just as entertainment, but also as an accompaniment to rituals and ceremonies. I didn't need a tutor; it just automatically came to my head, day and night. I learned it through exposure, through listening." Like many kulintang musicians, he began by steadying the large agung gongs when they swayed back and forth as the older musicians struck them. At the age of seven, he began to study the other instruments--the kulintang the dabakan goblet-shaped drum, the small babandir "timekeeper" gong, and the gandingan four-gong set--from his grandmother, father, uncles, and cousins. As a young man, he won island-wide competitions on the gandingan and became widely recognized as a master musician. In 1971, he toured the Far East with the Darangan Cultural Troupe.
In 1976, a Rockefeller grant brought Kalanduyan to the University of Washington in Seattle as an artist-in-residence in the ethnomusicology program headed by Dr. Robert Garfias. He has resided in the U.S. ever since. Word of his presence spread among Filipino communities, and he was soon very much in demand as a performer and as a guro, or "teacher." He has taught and performed with virtually all of the American kulintang ensembles. His missionary zeal and endless patience have brought success in his efforts to make his cherished musical tradition a respected part of American life. In the words of Los Angeles-based World Kulintang Institute director Eleanor Academia-Magda, "he can pride himself in exposing kulintang to the masses in America, which he has quietly done almost single-handedly." It is ironic to some that kulintang music, almost entirely confined to a small Muslim minority in the Philippines, has been enthusiastically embraced by scores of young Christian Filipino-Americans for whom, through its pre-Hispanic, pre-Muslim roots, it now serves as a cultural icon of pan-Filipino-American unity.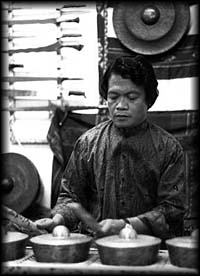 Danongan Kalanduyan has been a featured artist in performances at major venues such as the Hollywood Bowl (with the Los Angeles Philharmonic) the Metropolitan Museum of Art in New York, and the Kennedy Center, as well as in countless concerts and festivals throughout the United States. In 1990, he served as a master artist in the California state apprenticeship program. In his own view, passing on the tradition is his foremost goal. "I feel that transmitting the knowledge I possess is important for Filipino Americans everywhere, not only to preserve what may be the only authentic Filipino musical form, but also to encourage Filipino Americans to maintain contact with their cultural heritage."