The Library is located in the Numancia Municipal Hall along the National Highway. Numancia (pop. 22,000) is located on the island of Panay, 5km west of Kalibo - the provincial capital.
Panay is the western-most island in the central island group known as the Visayas. Kalibo (pop. 50,000) is the home of the famous Ati-Atihan festival held every January.
The local dialect in Aklan is Aklanon but most people also speak Tagalog and/or English. The education system is in English.
Kalibo is served by a domestic airport. The nearby port towns of New Washington, Dumaguit and Batan handle inter-island shipping connections.
After consideration of potential sites in the Science Development National High School (Old Buswang, Kalibo), the Madyaas Institute (Poblacion, Numancia) and the Numancia Municipal Hall, it was decided that the library would be located in the Numancia Municipal Hall.
The driving force behind this decision was the fact that of the three opportunities, only the Municipal Hall is a public facility. As a result of this decision, the Project is beong undertaken collaboratively with the Municipal Government of Numancia.
In March 1997, Mayor Adriano M. Maypa and the Sangguniang Bayan (Municipal Board) designated a 30-sq.m. room on the second floor of the Municipal Hall as a home for the library.
Funds were allocated from the town's budget for renovation. Renovation included enclosing the area with a wall, purchase and installation of lighting and the acquisition of bookcases and tables.


Numancia Town Square 
| | | |
| --- | --- | --- |
| The room as it appeared upon opening in January 1998. | | Numancia Municipal Library  |
In early 2002, as the Municipal Hall was undergoing large scale renovation, the library was relocated to a new room in the front of the building.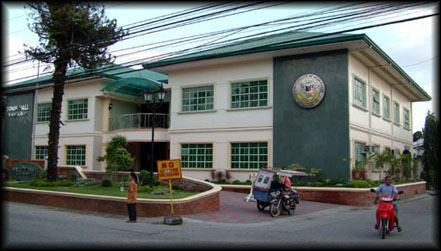 Numancia Municipal Hall - 2005 (following renovation)
 
Refer to the Feb 2005 Status Report for before and after shots of the municipal hall exterior.
Refer to the Photos sections for updated interior pictures.