The Remaining Right Side of the Buddha
Part 6: Polling Begins
---
Sunday - May 23, 1993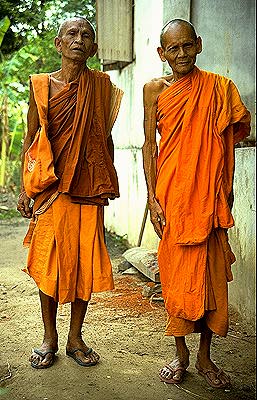 Sunday morning, the first day of polling, I awoke to find a note from Jack that had been slipped under my door while I slept. He was sick and thought he'd need to be taken to the hospital. I knocked on his door and got no answer. Downstairs, Tee, the guesthouse proprietor told me Jack hadn't gone out. I returned to Jack's room and this time he answered my knock. He was a bit delirious but better than he'd been during the night. He had been hit hard; it had taken him four hours to get up the energy to write the note and get it under my door.
At breakfast I found out about an UNTAC medical clinic but let Jack sleep, checking on him periodically. I wandered out onto the streets to see what it was like on this first day of polling. The sky was overcast, and it was drizzling. Cambodians believe it to be a sign of good fortune when it rains on an important day.
Just down the road from the guest house was Phnom Penh's central sports stadium which was serving as a major polling station. Charles Twining, the senior American diplomat in Cambodia, stood in the morning drizzle and watched voters line up to cast ballots as he spoke with reporters. "I'm absolutely convinced that technically this election is being conducted in a manner that is free and fair," he said. "This leaves the Khmer Rouge in the forest - and I hope they like it there."
I wasn't allowed inside the stadium and was restricted from taking photographs on the grounds so I sat on the grand staircase and studied the quiet determination on the faces of the voters as they filed past. Most Cambodians had never before voted in an election and until the UN arrived, they were largely unfamiliar with multiparty democracy or secret balloting. A successful outcome of the elections would come down to whether voters accepted the idea that they enjoyed a free choice - a potentially elusive concept for Cambodians whose survival over the prior two decades had depended on their absolute obedience to authority.
At a small building elsewhere on the site also being used for polling, I was able to peer in through an open doorway at the scene inside. Electoral workers had set up white cardboard voting booths and long wooden tables. Voters stopped at the tables to have their registration cards checked and each dipped a finger in a cup of invisible ink - a precaution against cheating. The ink would show up under the ultraviolet light of special flashlights that had been distributed to the nearly 1400 polling stations across the country.
Later in the day Jack and I went to the UNTAC clinic but because Jack was not UNTAC they could give him nothing but advice about other clinics. It was Sunday and all other clinics were closed. In any case, Jack seemed to be recovering.
That evening, about ten of us gathered at the Capitol and exchanged information about the day's events. We shared the daily newspapers from Bangkok and listened to short-wave radio, but most of the news came directly from the journalists amongst us who had just come from the daily press briefing at UNTAC headquarters.
The news was surprisingly positive. Inspired by the hope that these elections could help bring an end to a generation of tyranny and unrelenting carnage, more than 1.5 million Cambodians, or about one-third of the 4.7 million registered voters, had defied the threats of violence in order to cast their ballots.
UN election officials stationed throughout the country said that they were heartened by the eagerness of Cambodians to vote despite the threat of guerrilla violence and the long distances that voters had to travel for the chance to cast a ballot. There had been just three, relatively minor, instances of violence reported; none resulting in death.
Phnom Penh was suddenly optimistic and this feeling apparently even extended to the provinces. In the central province of Kompong Cham, a Khmer Rouge stronghold where two Chinese peacekeeping soldiers were killed in a rocket attack the day before, voters crowded into UN-supervised polling sites. So insistent were the voters on having a chance to cast their ballots that peacekeepers had to use all their strength to hold back the surging crowd. An electoral monitor from Jamaica said, "It doesn't ease up - they keep pushing the door. We had to post a police officer to hold them back. This is how much they want democracy."
In the tiny village of Rolous, 45 miles southwest of Phnom Penh, an election worker from Bangladesh said, "We had people wait for three, four hours this morning to vote and no one complained. I know these people. They want to vote. They feel they need to vote." Hundreds of Cambodians made their way to Rolous from the town of New Oaral, several miles to the south. Voting in New Oaral became impossible after the Khmer Rouge used grenades to destroy the local UN peacekeeping office earlier in the month.
Yasushi Akashi, the head of the UNTAC force, said that "throughout the countryside the turnout has been very, very gratifying." He said that the attacks reported on polling stations were "nothing very serious." In an attack in the southern province of Kampot, scores of uniformed Khmer Rouge gunmen surrounded a polling site before voting began. Several UNTAC peacekeepers and Cambodian electoral workers were held for nearly an hour before they were released unharmed. In the western border city of Poipet, three mortar rounds landed near the city's only polling station one hour after it opened slightly wounding two Cambodians.