The Remaining Right Side of the Buddha
Part 9: To Angkor
---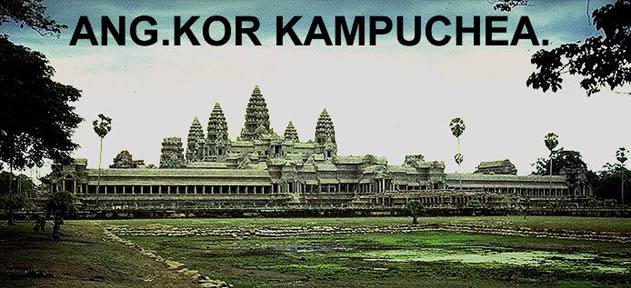 Wednesday - May 26, 1993
The following morning, nervous and excited, we hopped moto-taxis to the airport for the early-morning flight. Jack, Ken and I were joined by Paul, an Australian guy that I'd first met in Hanoi. Walking out onto the tarmac, we eyed the aircraft suspiciously - an old Russian prop plane with seats for forty. Three of the four tires were bald to the point of showing fabric. No checked luggage or compartments. No safety info whatsoever. Steam poured out of the ventilation system into the cabin around us during take-off creating the illusion of major malfunction. Welcome to the friendly (but disconcerting) skies of Kampuchea Airlines.
We flew for an hour or so, over the Tonle Sap and landed at the small Siem Reap airstrip to find it virtually deserted. There was a small building, a couple of UNTAC aircraft and lots of space. We hung out a bit watching an UNTAC chopper lift off; the gunner looking like an alien with his heavy headgear and goggles - in front of him the lethal barrel of a major piece of artillery. The only other aircraft in sight was a large UN helicopter.
We left the airport around 9:15 and found out later from an Irish journalist that the Khmer Rouge shelled the airport at 9:30 - the single rocket hit about 150 meters from the tarmac. Apparently the Khmer Rouge had accurate weapons but they would use tree branches for tripods and thus didn't achieve much accuracy. After firing a rocket, someone would ride out on a motorbike and note where it had landed. When he returned with the information, adjustments would be made and another attempt undertaken.
We checked into Mom's Guest House, a simple home occupied by an extended family with some extra rooms for rent. The four of us split up into two rooms and were the only guests. The family lived on the ground floor and the four extra rooms were upstairs. Extending from the upper level was a shady porch comfortably furnished - a bowl of ganja sat on a coffee table enticing us to settle in.
The entrepreneurial spirit was running high in Siem Reap and, because the folks there live so near to the Angkor ruins, many homes doubled as guest houses. There was one across the street from Mom's and another one next door. The guest rooms were mostly empty, however. The few foreigners who were in town were primarily reporters and photo-journalists who were staying at the town's lone hotel; The Grand Hotel d'Angkor, built by the French in 1928.
Overall Siem Reap was quiet. We heard occasional shooting that first day but were told it was the guns of unpaid government soldiers shooting birds for dinner. Guns were everywhere - even AK47's. After dark, most men on the streets carried some sort of gun. Some had grenade launchers.
Siem Reap had seen some of the worst incidents in the weeks leading up to the election. On May 3, Khmer Rouge soldiers came through town on motorbikes shooting and looting. Some said Funcinpec was also involved. I spoke to a few UNTAC soldiers and some journalists who were there at the time and apparently it was a real hair raising experience. They described how they hid behind hastily boarded-up doors and windows.
Since that incident, things were fairly quiet in town but most people didn't venture out after dark. Outside of town there was the occasional exchange of gunfire. Families from some of the smaller villages that had been victimized by the Khmer Rouge had taken refuge in the ruins of Angkor Wat. Perhaps they believed that the temple ruins, being a potential source of future tourist revenue, would be better defended than their villages
After a brief spell at Mom's, Jack, Ken, Paul, and I rode the five or six kilometers out to Angkor Wat on two motorbike taxis. The Angkor Wat ruins make up the most revered of the Angkor sites. Built during the reign of Suryavarman II (1112-1152) to honor the Hindu god Vishnu, the site is extraordinary in its vastness. It is the largest religious building the world has ever known. Over the course of five centuries of Angkor civilization, the architecture and ornamentation evolved to reflect a change in religious focus from the Hindu cult of Shiva to that of Vishnu and then to Mahayana Buddhism.
Angkor Wat has had many years to decay and, as with all the sites, the Khmer Rouge and other thieves took their toll by pillaging what they could for sale in Thailand. Many of the buddha statues were headless. The Vietnamese invasion was followed by a period of anarchy. Many stone-sculpted heads that had survived centuries of neglect and decades of war were broken from their bodies and sold on a flourishing black market. This was by no means the first occurrence of such pillaging. There was already a long tradition of looting at Angkor dating as far back as 1432 when Siam conquered the Khmers. Statues removed from the temples at that time eventually ended up in Mandalay after the Burmese conquered the Thais in 1569.
When the French entered the scene in the second half of the 19th century, many of the finest examples of Khmer sculpture were removed for the cultural enrichment of France. In 1923, André Malraux, who eventually became de Gaulle's minister of information, attempted to steal bas-reliefs from Banteay Srei. He was caught but managed to avoid imprisonment. In the 1980's, thieves were getting an absurdly low ten to fifty dollars for a head - the real profits were being made elsewhere; such as London and New York.
With the occupation of Cambodia by Vietnamese troops came the resumption of restoration work on the Angkor ruins; this time under the supervision of Indian archaeologists. India was the first country outside of the Soviet Bloc to recognize the Vietnamese installed government.
The dominant theme at Angkor Wat is the Apsara image. At days end the sing-song of children's voices reverberated in my head... "Apsara dancing, Apsara dancing." I was sufficiently moved by the place itself but as interesting were the village people who had moved in - refugees of the Khmer Rouge's onslaught. Because it is disrespectful to sleep in the temple itself, the families occupied surrounding structures such as the two libraries that sit on either side of the grand promenade.
One refugee was quoted in the English language Phnom Penh Post saying: "The Khmer Rouge attacked our village two kilometers away, stole everything and burnt our houses down. We just threw some clothes into a bag and ran for our lives. What you see is all we have left."
What they had left was a few pots and some clothes and blankets. The small amounts of gold that they had stashed in their homes had been stolen.
The article continued: "While Angkor Wat is proving a magnet for refugees, the May 3 rampage through Siem Reap and subsequent rocket attacks have temporarily killed the tourist trade stone dead. Even a hill commonly used as a vantage point for sunset and sunrise photographs of Angkor Wat is now off limits after CPAF troops laid mines in the pathway up to it to thwart further Khmer Rouge attacks."
The kids at Angkor Wat were great fun. They fell into two groups - refugees and temple kids. The temple kids were growing up amongst the ruins and had learned that by speaking some English they had a shot at earning a few riel. They exuded a particular wisdom consistent with children at other ancient and holy sites - a wisdom that seems to derive itself from growing up in places of such intensity.
Their older siblings and mothers hawked cold-drinks and souvenirs such as t-shirts and bamboo jaws harps. It was all a big joke; for them and for us, because with so few visitors, they had to ask us to buy over and over again. It was an excellent time to be there. Besides there being so few visitors, there was also a lack of any officials to gouge tourists for the exorbitant admission fees that were so recently the norm. In 1991, admission to Angkor Wat and Angkor Thom was US$120 per day. More recently it had been US$30 for Angkor Wat and US$50 for Angkor Thom. In fact, most travellers I spoke with who had been there during that time were able to get in via back entrances for five or ten bucks.
Except for a lunch break (for which we returned to Siem Reap) we spent the whole day at Angkor Wat. We heard from an Irish journalist that three Khmers and a Bangladeshi had been shot earlier in the day and that newly arrived UNTAC election monitors were afraid to leave their rooms.
We showed some kids the pictures of Angkor in the guidebook and they exclaimed and called out the name of a boy who appears in one of the book's photographs - their friend.
Around sunset we heard some shooting in the distance and decided it would be better to reach Siem Reap before dark so we found a couple of motorbike-taxis and rode back to town passing the twisted remains of two UNTAC vehicles that had hit land mines and been turned into twisted scrap metal. Paul became ill and stayed behind at the guest house when Jack, Ken and I went to dinner. We walked the darkened streets to a restaurant called Arun passing shadowed men many of whom carried guns.